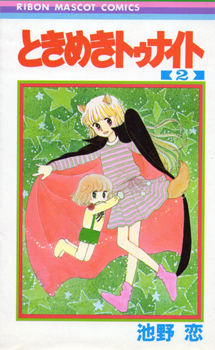 Ranze has a unique family situation; her mother is a werewolf and her father is a vampire. Despite living in her own "Addams Family," she tries her best to be normal. Developing a crush on a boy at school is normal, but her main rival is the daughter of a yakuza boss! On top of this, her parents do not approve of the boy, and want her to date somebody from the monster world, instead. As if this is not enough stress to deal with, she soon finds that supernatural powers so prominent in her family have not passed her by: if she bites something the wrong way she takes the form of the object! So, if she bites a baseball, she will turn into a baseball. If she bites a person, she will take on their form. And, because she has to sneeze to turn back to normal, it is not always easy to do so!
This series is a comedy above all else, with exaggerated expressions and situations. Published in 1982.
Click on images for full scan.